About Reynolds Sharpening
100% Customer Satisfaction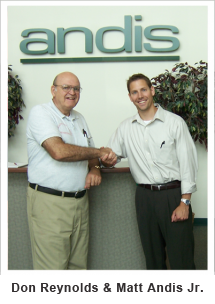 Don Reynolds has been offering excellent sharpening services since 1998. Over the years, we have become the most trusted provider of sharpening services for pet grooming facilities, vet hospitals and salons. We have built a strong reputation in the area based on our thorough professionalism and stellar customer service.
Our aim is to create long-lasting relations with our customers. We strive to achieve 100% customer satisfaction and will not rest until you are happy with the results. All of our work is guaranteed.
Bio
My name is Don Reynolds and my wife is Sophia. We are the owners of Reynolds Sharpening. We have been doing sharpening and repair work since 1998. I purchased a CS 101(clipper sharpening machine) from Clarence (Tippy) Tipton in Connecticut, where he trained me to use this machine. He then later sold the company to Bob Scheissl under the name Nebraska Blades. In 2001, we went to Spartansburg, SC, where I trained at Wolff Industries (a scissor manufacturing company), in sharpening all types of scissors. I served as the sharpener for the Beckley Kennel Club Annual Dog Show in Beckley , WV since 1998 until the showed closed in 2012.
Clipper motor repair and blade sharpening was completed at Huff's Wholesale in Knox City, MO, who is an authorized service center for Oster, Andis and Wahl clippers. I have taken continuing education sessions with Wolff's and Huff's in joint meetings in different locations of the Eastern and Central United States which has exposed me to a large number of excellent sharpening and repair people, from all over the US and Canada and I feel this has made me a better than average sharpener and repairman.
These companies are my supply and support source for repair parts and information on new products on the market.
Thanks, Don Reynolds